What is the tolerable wait time to load?
You Faster, Faster Websites
to view in 3 seconds
maximum website load time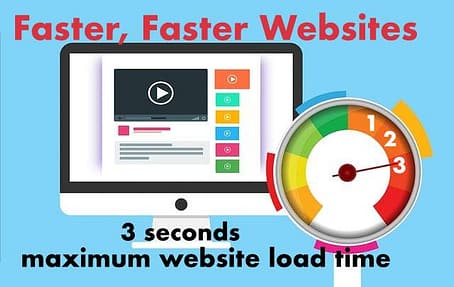 This is not an option, it is a necessity.

What is the tolerable wait time to load?
The speed to see your site, could be up to 7 seconds in 2017,
now in 2021, you've got 3 seconds.
When I looked at this in 2017 the maximum tolerable wait time to load a website page, was 7 seconds, now in 2021, the time is down to 3 seconds, so it is important to have the website fully optimized to ensure the view gets quick access. (previous article)
From a technical point of view, you can create faster website speeds, it's a challenge and now is achievable.
What is the tolerable wait time to load?
It is now so important for quick user access, the viewer will not hang around too long, well not much longer than 3 seconds.
Among all this, there is a hidden benefit, search engines, use speed as a ranking tool, and having a fast site improves SEO.
You don't want a minimum and stripped-down website to meet the speed, but deprives necessary detail and make the site useless. The time to first view is important but it must be matched with useful information.
Smart Phones demand speed
The main drive is the use of Smart Phones on the internet, they are used in over 50% on B2B websites, 60% of all search views, with some sites reaching 72%, with Google search views now 3.8Million searches per minute on Google, you can't overlook this important aspect of on your website.
The main criteria for your site, it has to be totally responsive not too image-heavy not too wordy, and now slick and get to the point.

Page layout
With good access to action points and contact points for quick questions and responses.
So some things never change, it is important to have in the first view,
What will grab the users attention
What will retain their interest
Is the Call to action easily viewed
Contact norm4webdesign.co.uk to check out your site.