The Best Form Builder
that's why do I use WPForms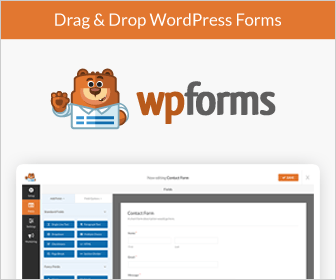 WPForms is the most versatile and best form builder I have come across.
 The great advantage of WPForms is it's not just a contact form, it can be used for receiving payment to conducting surveys as well as a simple contact form.
To create a form it is so easy, you have all the field in the template and you just drag and drop to your blank form.
Edit the fields on the form
You have the facility to edit to add title and description to each field which is really flexible and makes composing a form so quick and easy.
You can have full Captcha security on each form and GDPR consent check box to add to the integrity of the form.
The added security is great especially when you are creating, say a membership form or order form and request payment to complete the transaction and payment can be made with PayPal or Stripe.
Fully integrates with database for email marketing
As well as the added functions allow you to integrate the name and address information to Constant Contact, Mailchimp, Aweber and others, enabling you to establish contact and build email database as part of your email marketing strategy.

To demonstrate the flexibility of WPForms (see the order form and contact form)
Demonstration Order Form

Contact Form

Other forms include Suggestion form, Request for Quotation, all with a template to help the form build, plus there are loads more see this link WPForms.
Confirmation response
When a form is completed/submitted, a confirmation email is sent, what is great you can edit the content to be relevant to the enquiry more than just a thank you for completing the form. With these details start a conversation at this stage which may be just what you want to engage and clarify, starting a conversation quickly and efficiently.
WPForms I have found includes all the flexibility making it a worthwhile tool and certainly its the best form builder by far.